Bathtub to Shower Conversions in Chicagoland, Rockford, and Southeast Wisconsin
Replace your old tub with a large, easy-access shower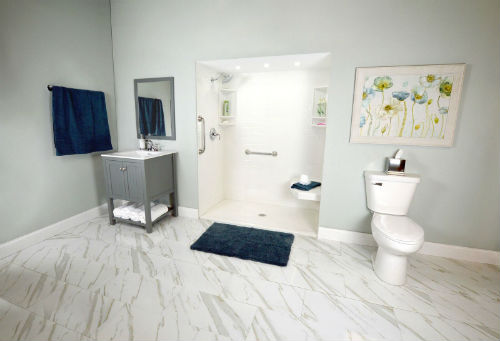 Walk-in showers offer improved safety, function, and comfort for many homeowners.
Whether you're looking to replace your outdated tub, gain more space in your small bathroom or you need a safe, convenient bathing experience, a tub-to-shower conversion can solve all of these needs. America's Bath can remove your old tub and replace it with one of our quality replacement shower products.
Learn more about how we can easily turn your bathtub into a shower in just one day! Contact us for a free in-home consultation and estimate for your tub-to-shower conversion in Lake Barrington or surrounding Chicagoland, Rockford, and Southeast Wisconsin.
Reasons to convert your bathtub into a shower:
Create more space
Keep existing plumbing
Improves functionality and accessibility
Affordable alternative to full bathroom remodel
Converting a tub to a shower is easier than you think
The majority of our projects are converting tubs to showers for aging in place, especially with low barrier entry. In just about one day, we can convert your bathtub into a brand-new shower that will update the look of the entire space.
You don't need major demolition and reconstruction to convert your existing bathtub. America's Bath can provide tub-to-shower conversions that can be completed from start to finish in just one or two days. Here are two different options to consider:
Cutting an opening in the tub apron: Instead of tearing out a tub that's in reasonably good condition, it's possible to cut an opening in the tub wall (apron) and create a shower with safer, easier access. We will use special cutting equipment to create an opening in the tub wall, then reinforce and finish the cutout area with specially made filler pieces, caulk and other proprietary materials. A shower curtain or a specially made glass shower door can be installed to keep water inside the tub.
Replacing the tub with a shower base: One benefit you don't enjoy with option #1 is a larger showering area, as you're still stuck with the limited space of the tub floor. If you replace the tub with a new shower base sized to match the tub, your showering area changes from cramped to very generous. For this kind of conversion, it is often recommended that a new shower surround be installed to go with the new shower base. This type of surround can be installed directly over an existing tile wall, saving time and money. Since the surround is durable and completely waterproof, there will be no grout joints to clean or repair.
We can also convert your shower back to a bathtub using the same process with a quality standard size tub, a deep soak tub, or a jetted tub. We will then install our beautiful solid surface walls panels that are easy to clean.
Before and After
Before

After

We removed the old cast iron tub and trim wall and installed a wider shower with standard height shower pan, 2 corner caddies, 18" corner seat, 24" grab bar, Moen Eva Series in Chrome finish with handheld, and window trim kit. This project was completed over 2 days. Photos taken by installers, thus poor quality.
Safety features for aging-in-place remodels
To complete any tub to shower conversion, it's worth adding in a few extras that will enhance safety, convenience, and your overall enjoyment of this transformed space. Adding grab bars in your new shower space will make it safer and more user friendly for people of all ages. It's also a good idea to install a new mixing valve for the shower. The valve and its temperature control handle can be located at a convenient height on the shower wall. Finally, don't forget to upgrade to a full-featured showerhead.
Contact us for your free tub conversion estimate
If you're ready to give your bathroom a brand-new look, contact America's Bath today to request your free in-home estimate. We are proud to offer quality, affordable bathroom remodeling services in Lake Barrington, Lake Zurich, Crystal Lake and surrounding areas in Illinois and Wisconsin.
Looking for a price? Get a no cost, no obligation free estimate.