Bathtub & Shower Surrounds Installation in Illinois and Wisconsin
Get rid of ugly bathtub & shower walls with a quality wall surround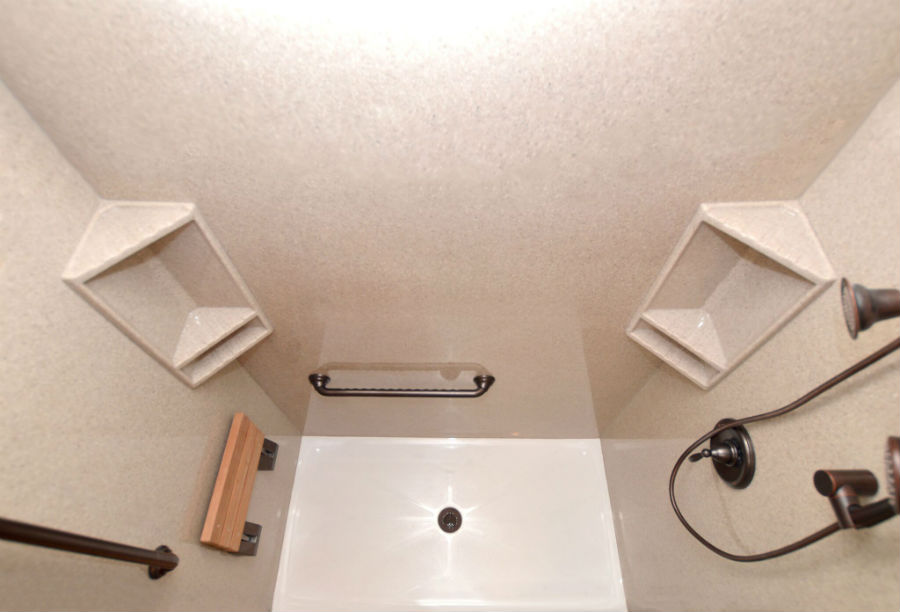 A new bath surround can easily transform the look of any bathroom.
Bath surrounds can transform the look of any bathtub or shower, making it look brand new. If you want to keep your existing pan or tub, our one-day wall panel installation is an easy alternative to a total shower or tub replacement. We offer solid surface wall panels in over 50 colors and five different patterns to choose from.
Contact us today to schedule your no-obligation bathroom design consultation. We offer free estimates for installing bathtub and shower surrounds in Lake Zurich, Lake Barrington, Crystal Lake, and the surrounding areas.
Our solid surface bath and shower surrounds offer numerous advantages, including:
Easy to clean – Unlike tile walls that have grout lines that require scrubbing, our solid surface shower surrounds can be cleaned using a cloth and common household cleaner.
Aesthetically pleasing – With six different styles and more than 50 different color options to choose from, you'll be able to customize the look of your shower how you want.
Superior to acrylic – Our shower wall panels are more attractive than standard acrylic liners. Plus, our durable wall panels won't scratch or fade when they are exposed to certain cleaning solutions the way that acrylic liners can.
Far less expensive than real stone – Real stone panels are available, but cost a fortune and typically found in very high end home.
In addition to providing top-of-the-line bath surrounds, America's Bath Company is committed to offering superior customer service. To ensure the best possible results, our expert in-house installers work with care, and then a quality control specialist will inspect the installation after we're done. We also back our work with a five-year labor warranty so that your investment is protected.
Pros of installing a panel-type bath surround
For homeowners that prefer durability and common-sense utility, panel-type surrounds are a great choice for bathtubs and shower stalls. Unlike a tiled surround, which is made from hundreds of individual tiles, a panel-type surround is made up of no more than several large wall panels that are designed to form a near-seamless surface.
With panel-type surrounds, there are no grout joints to crack, admit water and support mold growth. Instead you have thick, durable surround panels that direct water down toward the drain. The bottom edge of each panel overlaps the wall flange where the top edge of the shower base or bathtub is secured to the wall.
Get a free estimate on a new bath surround
To learn more about the advantages of our bath surrounds, contact America's Bath today to schedule your free estimate. During your in-home consultation, your bath design specialist will answer any questions and discuss all the options. We offer our services in Lake Zurich, Lake Barrington, Crystal Lake and surrounding areas in Illinois and Wisconsin.
Looking for a price? Get a no cost, no obligation free estimate.